The Belgian fast-growing technology company Dstny will be visible on Lotto Soudal's team kit already during this Tour de France and for the rest of the season. To provide a soft-landing next season, when Dstny will become co-title sponsor, the team and Dstny have agreed to already start working together now. The team's name will remain Lotto Soudal until the end of the season.
In February of this year the National Lottery – the lifelong sponsor and owner of the team – and Dstny already announced their partnership. From 2023 the team will be named Lotto Dstny. Dstny is a Belgian based company that specializes in business communication solutions based on cloud technology.
Daan De Wever, CEO of Dstny: "We have already explained in February why we want to get involved in cycling in general and this team in particular. We share a focus on developing young talent, we share the bravery and offensive style of racing and we share our Belgian base and heritage, but at the same time the ambition to make a mark on an international level. We feel a genuine emotional connection with this team already, but we also invest to create brand awareness in the rest of Europe and the world. As you all know, there is no bigger event in cycling than the Tour de France. So putting our names on the jerseys and helmets right now, makes sense from a strategical point of view as well."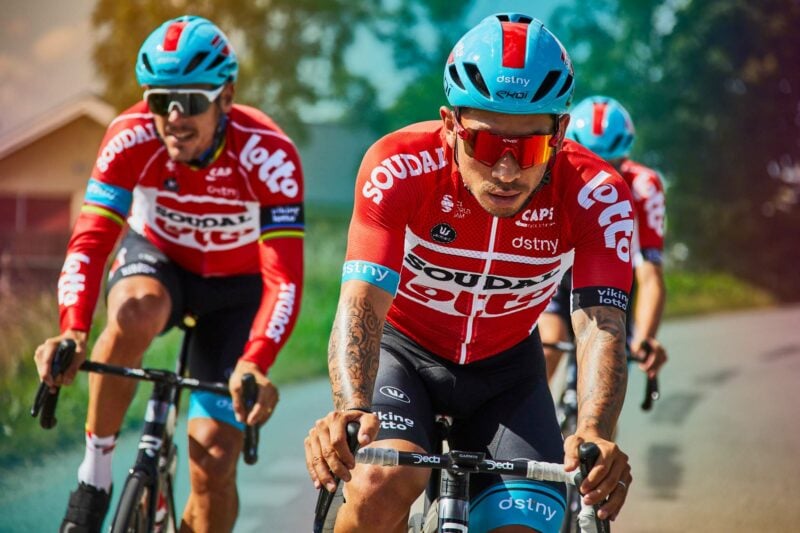 And there is more, continues Daan De Wever: "We are not the company to just invest and wait to see what happens. We want to get involved and learn from this team, and at the same time share our knowledge and experience. How can we, together with the National Lottery, help the team to take the next step? As a scale-up company, we have experience in constantly setting new goals and ambitions to keep improving. In that perspective it also makes sense to start this new partnership in this 'light'-version. We want to dive right in and create an impact on this project."
The unique green-blue color of Dstny and its logo will from now on feature on both the Vermarc kits and Ekoï helmets of the team. "We are happy to have Dstny on board already", says Jannie Haek, CEO of the National Lottery. "This way we can start working together intensively already, to make sure we are fully prepared for next season. We have our 37 years of experience as a lifelong partner and owner of the team and we are very interested to see what Dstny will add to the team. Starting already during this Tour de France, which is extremely important for us and where we expect the team to get good results. The first and most visible addition Dstny already brings, is that our fans will be able to spot our riders in the peloton a lot easier. And there is a lot more to come."
About the UCI WorldTour team
The Lotto cycling teams are a household name in the cycling world. Since 1985, the National Lottery has linked the name of its strong Lotto brand, together with various other partners, to the professional cycling team. After all these years, the 2022 team is still known for its offensive spirit, approachability and investment in young Belgian cycling talent. The team shows itself every year on a global level and won the biggest races like the Tour of Flanders, Paris-Roubaix and many stages in the Tour de France.
About Dstny
Dstny is a fast-growing technology company that originated in Belgium and has become a European provider of modern business communication solutions based on cloud technology, enabling employees and customers of small and large companies to communicate with each other in an easy and straightforward manner via all possible communication channels (voice, video, chat and others).